Free and open to public!
This event is first-come, first served. Please arrive early to guarantee a seat in our theater.
Building a business but feeling like the only woman in the room? Looking for a space to celebrate your accomplishments and contributions? Needing to hear from other ladies crushing it on the daily?
Women Owning It is a celebration of women in media and tech killin' it in their fields and owning their space in the industry.
For our second event in this series, we've invited emerging startup founders from Gen Y to talk about how they've built their businesses. The terrain of media and tech industries is in constant flux and with it, the terrain of business development. Our panel of five women will provide the heads up you need to build your business with an eye to the times. They'll discuss funding opportunities, the art of the pitch, the importance of your network and more before we open the floor to your questions. Our hope is that attendees leave this evening session reinvigorated and feel empowered to build their businesses, brands and billable hours.
Panelists are:
Lisbeth Kaufman (KitSplit), Kristina Budelis (KitSplit), Erum Khan (SoundMind), Alex Serio (Nameless Network) and Sky Dylan-Robbins (Video Consortium)
6:30 to 7:00 PM –– Registration and Networking Reception
7:00 to 8:15 PM –– Panel and Q&A
8:15 to 9:00 PM –– Fireside Chats with the Panelists
---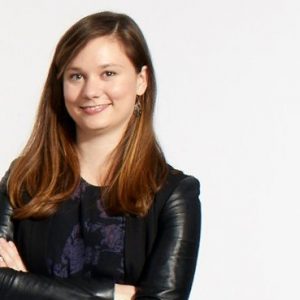 Kristina Budelis is a visual storyteller and the cofounder and President of KitSplit, a community marketplace for cameras and related equipment that's been called "The Airbnb of cameras" by Forbes and Fast Company. Just three years old, KitSplit has over 30,000 members including companies like NBC and National Geographic. At KitSplit, Kristina focuses on building the community and product. Previously to her work on KitSplit, Kristina was a video and multimedia producer at The New Yorker magazine. She's also freelanced for brands from Vogue to JP Morgan. In 2017 she was named a Forbes "30 Under 30" in media. You can find her online at @kbudelis on Twitter and instagram.
---
Sky Dylan-Robbins is the founder and Executive Director of the Video Consortium, a creative community of today's leading video journalists and nonfiction filmmakers. In just three years, the VC has grown to include two thousand members and chapters in New York, Los Angeles, San Francisco, Washington DC, and Paris—with more in the works. Offering monthly gatherings in each city, a private online forum for industry discussions and jobs, workshops, and resources for storytellers, the VC connects nonfiction creators to collaborate and inspire one another and, together, repair the world through truth. Sky is, full-time, a filmmaker and visual journalist at an experimental documentary unit under NBC News. Previously, she was the Senior Producer, Video at The New Yorker magazine. In 2018, she was chosen as one of Forbes Magazine's 30 under 30 in Media. She graduated cum laude from Northwestern University.
---
Lisbeth Kaufman is Cofounder & CEO of KitSplit, a community marketplace for cameras and related equipment that's been called "The Airbnb of cameras" by Forbes and Fast Company. Lisbeth grew up on the film set, got her business chops in consulting, and wrote policy in the Senate. In other words, she's a rabid film enthusiast, recovering policy wonk, and is passionate about empowering storytellers by democratizing the filmmaking process. Before KitSplit, she worked in consulting at the Podesta Group and the Corporate Executive Board. Lisbeth was also a policy advisor for Senator Al Franken in the Senate, and developed clean energy policy at the Center for American Progress, Washington's leading progressive think tank. She has a BA from Yale University and a MBA from NYU Stern, where she was a Dean's Fellow and a Forte Fellow with a full scholarship.
---
Erum Azeez Khan is CEO of Soundmind, a company that empowers seniors and improves caregiving through personalized voice assistants. In just one year, Soundmind created two voice assistant applications and launched a pilot of 300 devices across long-term care facilities serving 15,000 older adults. Before Soundmind, Erum worked on advanced technologies and social initiatives with TED, Singularity University, Google, and the UN. She has a B.S. in Forensic Chemistry & Toxicology from West Chester University of Pennsylvania and started her career analytical chemist at GSK and J&J for 5 years before entering the global tech ecosystem in 2012.
---
Alexandra Serio is Founder and Chief Content Officer of Nameless Network, a Brooklyn-based media company focused on knowledge-based video content.Nameless Network currently reaches over 300 million people every month, 65% of which are Generation Y and younger. In addition to a suite of educational video programming, Nameless is launching The Museum of Pizza (MoPi) which debuts in New York City in October 2018. MoPi will be the first of many interactive educational exhibitions that create a physical footprint for the Nameless brand.
Prior to Nameless, Alex launched Noisey, VICE's music channel where she served as Head of Global Marketing for the vertical. Alex is a proud member and Kate Spade Scholarship recipient of NEW INC, New Museum's art, technology and design incubator.